Request a free quote to ship your car using our "car shipping calculator".  With nearly a decade of industry experience, we have developed a simple quote form to capture real-time car shipping prices from top transport carriers.  After you fill out the pick up and delivery address and enter your contact information, our car shipping calculator goes to work.  Car shipping prices are calculated based on many different factors including the distance of the route, current demand, and the time of year the vehicle is being shipped.  Our Shipping calculator will give you an exact cost to ship your vehicle as well as the soonest date our carriers can pick up the automobile and even an approximate delivery date.  The quotes we generate are all-inclusive, so no hidden fees.  And every quote we share includes our standard $250,000 insurance policy to protect your vehicle while in transit.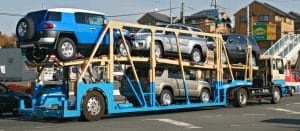 We can generate accurate shipping prices for nearly any vehicle, including all standard sedans, SUVs and trucks.  Vehicles with modifications like oversized tires, lift kits, or vehicles with altered / lowered suspensions can not be accurately quoted unless you call (888) 567-7396 to speak to one of our transport specialists.
Get a quote to ship your car today, simply fill out the form on this page.
Example Car Shipping Calculator Prices
Shipping a car 500 Miles = $590
Shipping a car 1000 Miles = $750
Shipping a car 1500 Miles = $990
Shipping a car 2000 Miles = $1090
Shipping a car 2500 Miles = $1190