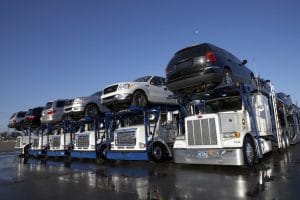 Whether you are moving to a new town or vacationing and need your car for an extended length of time, All Day Auto Transport offers uncovered / open auto transport for your car shipping convenience.  The uncovered / open auto transport method is the most common method of shipping; the entire trailer is open, top and sides, and they vary in size from large 11-car-dual-level haulers to small 1-car flat-haulers.
The uncovered / open auto transport method is a less costly and safe way to transport your vehicle.  Open vehicle carriers are also more readily available, so you will receive more immediate service.  Please note that although your car will be safe from theft and other damages, the open containers are fully open and therefore do not protect vehicles from weather damage.
All Day Auto Transport ships vehicles door to door, both domestically and internationally.  We will safely transport your car in a timely manner because our reputation is important to us.  We've been in business since 2009, and we have had a 5-star customer rating from multiple independent websites including Transport Reviews, City Search, Insider Pages, Trustlink and the Yellow Pages.  We take pride in our business and great care in selecting our auto transport carriers to ensure full customer satisfaction.
No matter the time of year, All Day Auto Transport can guarantee a fair and accurate auto shipping quote based on your specific car shipping needs.  We have several no hassle options available to you, so your move is as stress-free as possible.  Call us today to receive a free and individualized quote: (888) 567-7396.