Vehicle Shipping Tips:
Shipping your car can be a carefree and seamless process as long as you've done your homework beforehand.  Before you ship a car, it is important to choose your transporter carefully by looking into their company history, understanding the different transportation services they offer, and the criteria that influence cost.  Below you'll see our 7 vehicle shipping tips to ensure you have a great experience.

PICK A RELIABLE AUTO TRANSPORT COMPANY
As you perform your due diligence, look for a company with years of experience and a track record of success.  While some auto transport companies initially promise low fees, they may have a history of changing their fees after pick-up, or leaving vehicles stranded for weeks at a time.  Find an auto transport companies who has been in business for a decade or more, and always check other customers reviews on Google, Transport Reviews, and the Better Business Bureau.  Be sure to look at the company holistically, and do not let a single negative review sway your decision.
HOW MUCH DOES IT COST?
Check out vehicle shipping websites and request a free quote to compare prices.  Consult with friends, family and different auto transport companies to ensure you understand the full cost for each service.  Often times it's helpful to speak with a transportation specialist on the phone as they can point out peak season price surges, and if your timing is flexible, help you schedule a car carrier on a day with the lowest rate.  All Day Auto Transport has transport agents available 24/7 to help with shipping your vehicle, simply call (888) 567-7396.
BEWARE OF UPFRONT DEPOSITS
Reputable companies should not ask for an upfront deposit or fee until the car has been assigned to the carrier for pick-up.  You don't pay before you eat at a restaurant, and you shouldn't pay anything until your auto transport has been finalized and scheduled.
IS THERE AN INSURANCE POLICY?
Your car is an investment and should be protected.  Ask your auto transport company about their insurance coverage upfront to determine if the amounts are sufficient, and if there is are any additional costs to insure your vehicle while in transit.
PICK-UP AND DELIVERY SCHEDULING
Be sure to let the auto transport company know upfront if you need your car to arrive at the final destination by a specific date.  Most car carriers provide a 5-7 day window for delivery as they are typically transporting 9 to 11 different vehicles; for this reason, it's important to plan in advance, and make sure the delivery window aligns with your schedule.
ONSITE FOR PICK-UP AND DELIVERY
It is important to be present during the auto pick-up and delivery.  When the car is picked up, the driver should inspect it with you and make note of any pre-existing damage.  Once the vehicle reaches the final destination, be sure to be onsite again to confirm the car is in the same condition and no damage occurred during transit.
FINAL PREPARATIONS FOR VEHICLE SHIPPING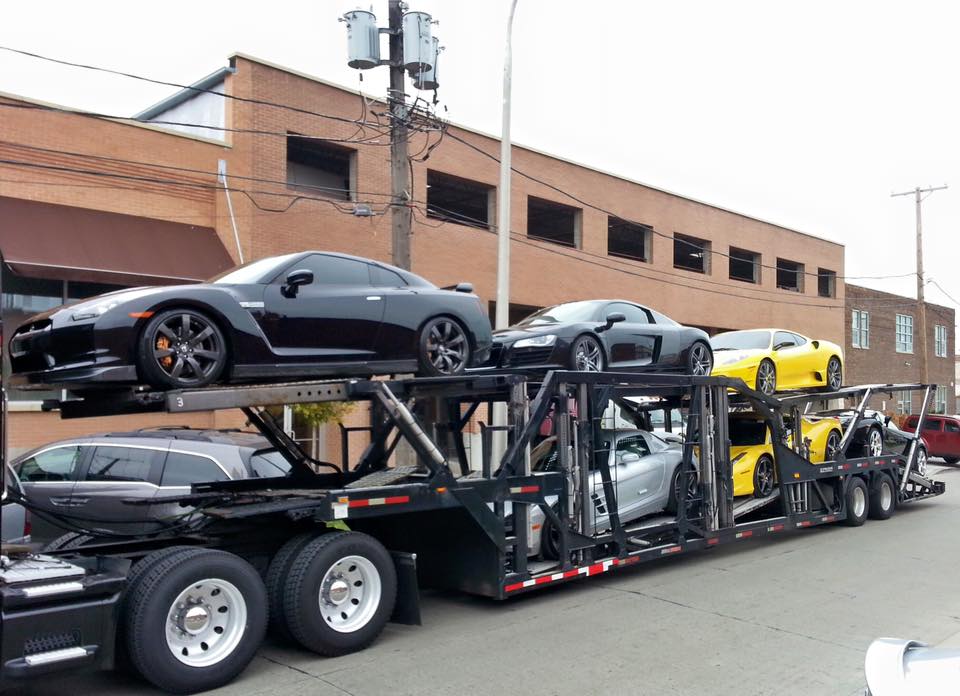 Fill your car with at least quarter tank of gas before shipping.  If your car cannot be driven on and off the car carrier, most companies will charge a non-run fee, and your auto transport may be delayed or cancelled as a non-running car will most likely require a special car carrier with a winch.  Also, be sure to check that all fluids (such as antifreeze) are full to avoid damage during transport.  If your shipping company allows personal belongings in your vehicle, properly secure them in the trunk so that they do not break during transport.
Learn More:
Learn why shipping a car is better than driving >
How to ship a car for a move >
More car transport considerations >
Since 2009, All Day Auto Transport has been one of the nations most reliable auto transport companies.  With more than a decade of experience shipping thousands of cars, trucks, motorcycles and boats nationwide, we can help answer any questions you may have about transporting a vehicle.  For more vehicle shipping tips or a free quote, call (888) 567-7396 or simply use the quote form here.