Most people find buying a new car to be a very stressful experience.  It can be so time-consuming to visit your local dealer, and it's quite frustrating having to deal with all the haggling.  Luckily, you can buy cars online now, and even have your car delivered.  It might sound complicated, but this whole process may be easier than you know.  Keep reading to learn how easy it is to buy a car online and have it shipped to you.
Tips For Purchasing A Car Online
Set Your Budget – The first thing you need to do when purchasing a car online is set your budget and stick to it.  Give yourself time to conduct research and you will be able to find the car you need within your budget.  One great thing about buying online is dealers don't have as much power to pressure you into spending more than your budget.
Determine What Kind Of Car You Need – Before you can buy a car, you need to figure out what kind of car fits you and your family's needs.  For example, if you have a large family you might want a minivan, or if you're on a small budget, a small sedan.  Consumer websites, such as Kelly Bluebook, can help you figure out which cars to buy online and also give you an accurate price range.
Negotiate With The Dealer
Now that you know how much you want to spend and what car is right for you, you need to actually find and contact a seller.  Negotiating with a dealer online is considerably easier than doing so in person.  The best way to do this is to find a few different sellers and reach out.  Tell the sellers which car you want and ask for the best price they can offer, including any extra features you want to be included.  You don't want to mention your trade-in or financing options at this point.  When the dealer starts discussing prices with you, be sure they're including any fees.
Once a few different dealers have given you quotes, take the lowest offer and send it to other dealers, asking if they can do better.  Keep doing this until you receive an offer within your budget.
Buying A Car Without A Dealer
If you're going to purchase a car online from a private seller, it is imperative that you gather as much information as possible before making a purchase.  The seller should be willing to show you a Carfax or similar report, and if they aren't, that's a huge red flag.  It's also a good idea to ask the seller if they'd be willing to have a local mechanic look at that car before purchase.  Once they agree to this, start calling around mechanics in their area and see who will look at the car.  Many mechanics charge around $100 for an inspection, which is well worth it.  Once you've seen the report and had the vehicle inspected, you can begin negotiating with the seller.
Have Your Car Delivered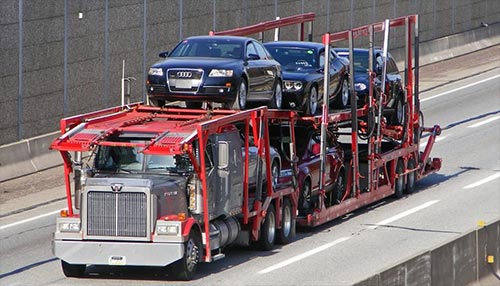 Once you've found your dream car online and purchased it, you need to actually have the car shipped to you.   If the seller is relatively close, say less than 150 miles away, this could be a fun road trip for you.  If they're further away, you want to use a service like All Day Auto Transport.  We are an experienced auto transport industry expert and have been in business since 2009.  Shipping times vary, but cross-country routes usually take five to eight days to have your car delivered.  For a free quote, click here.  You could be driving the car you purchased online in no time.